Olga Stepanovna Khokhlova was a Russian Empire-born dancer, better known as the first wife of Pablo Picasso and the mother of his son, Paulo.


Olga wanted to be a ballerina from the time she visited France and saw Madame Shroessont perform.
 She became a member of the Balletts Russes of Sergei Diaghilev.
 
On May 18, 1917, Olga danced in Parade — a ballet by Sergei Diaghilev, Erik Satie and Jean Cocteau — on its opening night at the Theatre du Chatelet.
 
Pablo Picasso had designed the costumes and set for the ballet.

After meeting Picasso, Olga left the group, which toured South America, and stayed in Barcelona with him.
He introduced her to his family.

At first his mother was alarmed by the idea that her son should marry a foreigner, so he gave her a painting of Olga as a Spanish girl (Olga Khokhlova in Mantilla).

Later Olga returned with Picasso to Paris, where they began to live together on the Rue La Boetie.
In July 1919, Picasso and Olga went to London for the performance of Le Tricorne, for which Picasso again had designed costumes and stage on Diaghilev's wish.

The ballet was also performed at the Alhambra in Spain, and was a great success at the Paris Opera in 1919. They were happily married and were often invited to parties and social events.
On February 4, 1921, Olga gave birth to a boy named Paulo (Paul).
From then on, Olga and Picasso's relationship deteriorated.
In 1927, Picasso began an affair with a seventeen-year-old French girl, MarieTherese Walter.
 
In 1935, Olga learned of the affair from a friend, who also informed her that Walter was pregnant.
Immediately, Olga took Paulo, moved to the South of France, and filed for divorce.

Picasso refused to divide his property evenly with her as required by French law, so Olga stayed legally married to him until her death from cancer in Cannes, France in 1955.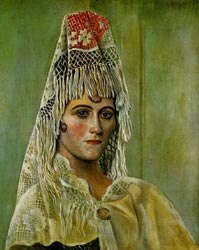 "Olga Khokhlova in Mantilla" Pablo Picasso 1917